Aggressive vs. Flat Climbing Shoes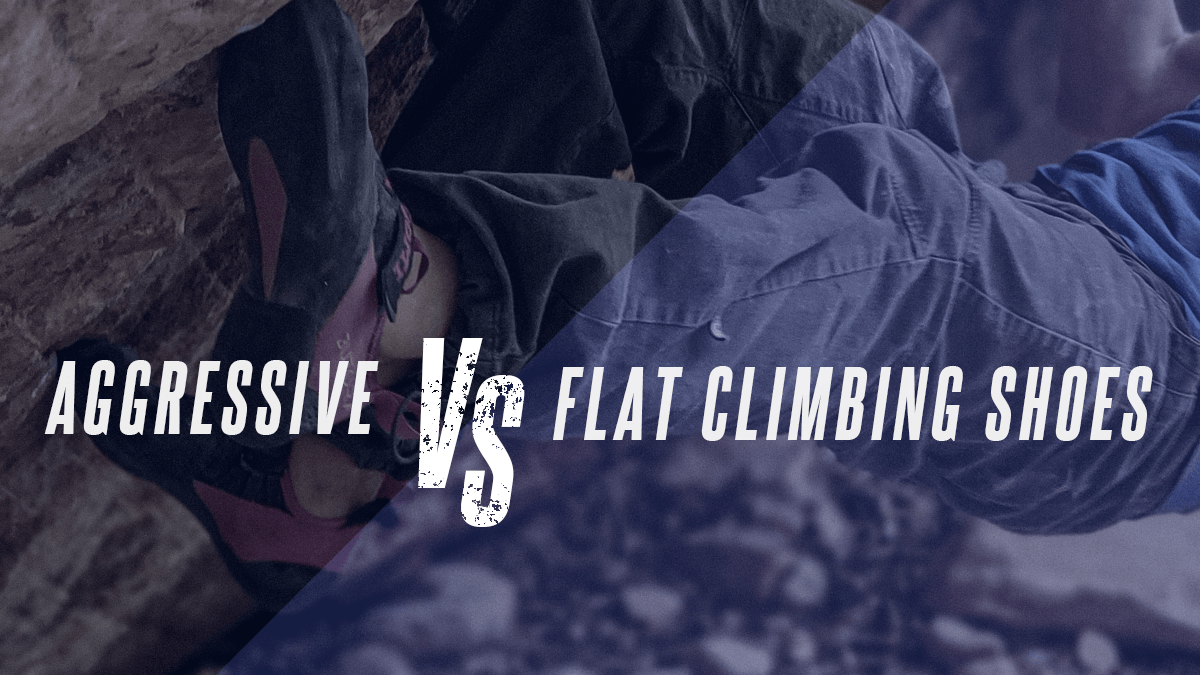 Whether you are new to the climbing world or a climbing veteran, you have probably noticed that climbing shoes come in various shapes and sizes. Some climbers wear full climbing boots while others jam their feet into curved, dancer-like shoes. Different climbing shoes serve different purposes on the wall, so it is essential to know what you are getting into when purchasing a pair of climbing shoes.
Aggressive climbing shoes generally have an extreme downturn that exaggerates the arch, while flat climbing shoes are shaped a bit more like traditional shoes. You may have heard the common myth that flat shoes are for beginners and aggressive shoes are for experienced climbers. While there is some truth to this claim, many experienced climbers prefer flat shoes for a variety of reasons (not the least of which is comfort!), and you may not have to be as experienced as you think to utilize aggressive shoes. Below we will go over the properties of aggressive and flat shoes, how to best use them, and how to know if they may be for you.
Aggressive Shoes
So it's not entirely a myth... The first thing to know about aggressive shoes is that they are often catered towards more experienced climbers. This does not mean that you have to crush 5.13 to wear a downturned shoe! But aggressive shoes are probably not the best choice for a first climbing shoe.

Advantages
Aggressive shoes provide climbers with several distinct advantages over flat climbing shoes. First, they excel on steep terrain. When you are climbing on any kind of overhang from 10 degrees to full-on roof climbing, the downward curve of aggressive climbing shoes sets the climber up to "pull" on the holds with their feet. This means the climber is less likely to cut (or accidentally release) their feet, and they can save energy by staying tight to the wall. Second, aggressive shoes allow climbers to heel hook more optimally. Aggressive shoes generally force the climber to point their toe and provide a comfortable pocket in the heel of the shoe. Third, and finally, the design of aggressive shoes is such that the climber can not only feel tiny edges on the inside of their big toe, but they can grab on and push off of those holds as well.
Disadvantages
The main disadvantage of aggressive climbing shoes is simply that they are uncomfortable. Often called "bouldering shoes," aggressive climbing shoes work best in small increments. Whether that is a couple of boulder problems or one pitch of sport climbing, your feet will need a break from that position after a couple of minutes! Another disadvantage is that a new climber will likely have difficulty capitalizing on the advantages listed above. It takes a while for a climber to begin climbing on overhung terrain and to learn to pull on small edges with your toes. This is why aggressive shoes may not be a great fit for new climbers.

Flat Shoes
Many climbers use flat shoes for a variety of reasons. They are an excellent choice for a beginner climber but also for many veteran climbers!

Advantages
The main advantage of flat shoes is that they are more comfortable than aggressive shoes. Not only does this enhance the climbing experience, but it may be necessary for long days of climbing or for climbing multiple pitches. After all, Alex Honnold didn't free solo the Dawn Wall in Acros! Flat shoes also make for excellent beginner and warm-up shoes. Many climbers purchase a flat climbing shoe as their first pair and as they learn what kind of climbing they enjoy most are then able to cater their shoe choice to their climbing style.

Disadvantages
There is a reason that almost every climber in the 2020 Olympics was wearing some type of aggressive shoe: they provide the climber with the ability to perform better! Flat shoes simply do not provide the mechanical advantages of an aggressive shoe. If you find yourself on difficult terrain, flat shoes also have a reputation for falling off more easily than aggressive shoes. So when you are heel-hooking in a flat shoe, be sure you are velcro-ed or laced up tight.
Choosing the right climbing gear is all about catering specifically to your needs as a climber. So while we advise starting out with a flat pair of climbing shoes, think about the advantages and disadvantages of both flat and aggressive shoes when picking out your next pair. If you feel as though your shoes are holding you back from using smaller footholds, try an aggressive pair. And if you enjoy long days of rope climbing, consider a flatter pair!
---