Ambassador Spotlight | Will Kelly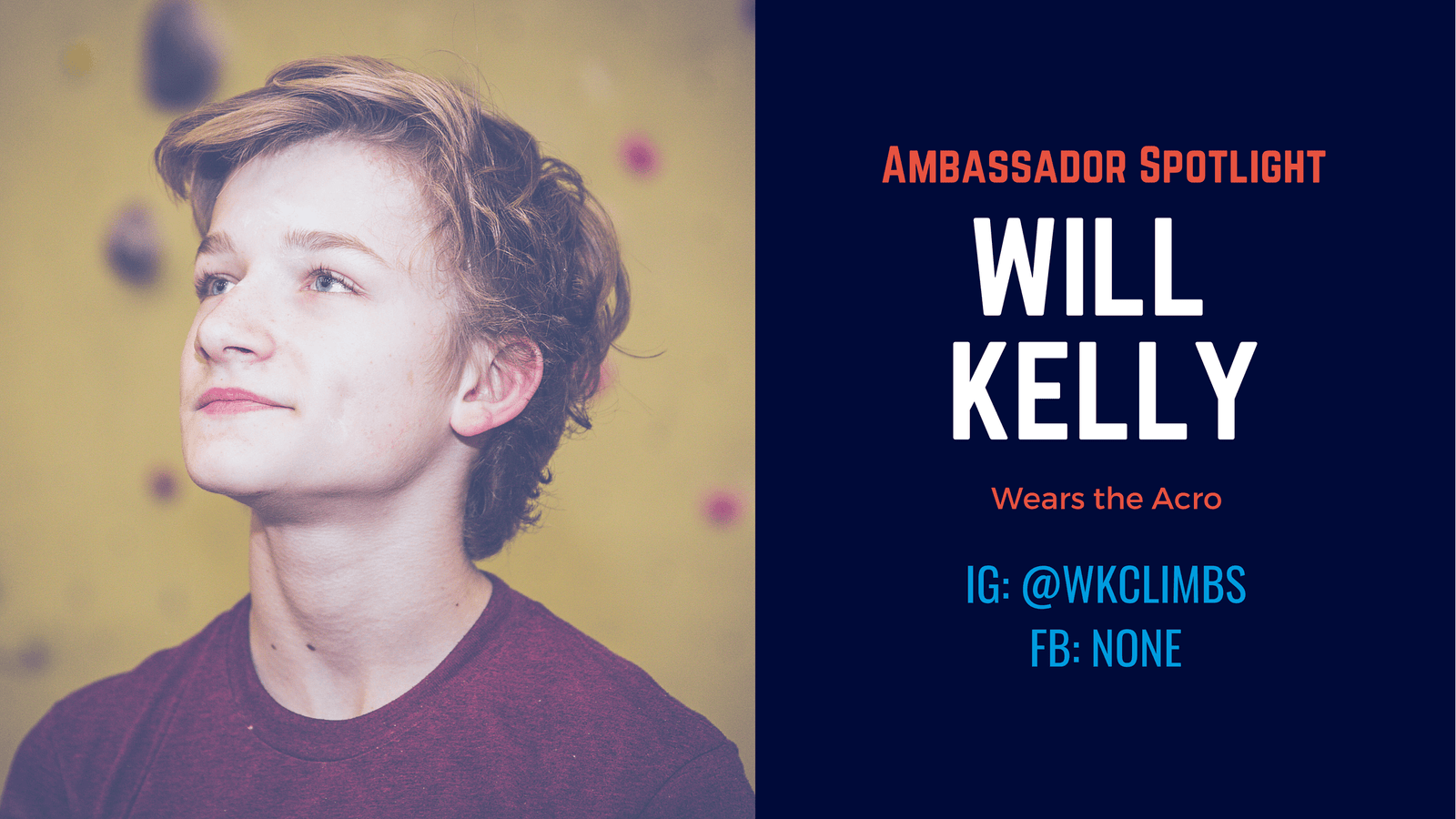 Hometown: Columbus, Ohio
Q: What's your climbing style?
A: Powerful
Q: What is your proudest accomplishment in climbing, and outside of climbing?
A: Climbing my first 5.13, and maintaining a 4.0 gpa
Q: What advice would you give to your first year climbing self?
A: That the mental side of Climbing is everything.
Q: Who do you take advice from and why?
A: My dad, because he cares deeply about climbing, has been doing it for years, and knows his stuff!
Q: How has your training for climbing changed in the last year?
A: I've shifted from a linear periodization format to a non-linear periodization format with an emphasis on any particular weakness during a four week cycle, as well as incorporating more stretching into my training.
Q: How has climbing affected the people you choose to surround yourself with?
A: It has obviously caused me to surround myself with others who climb, but also, since climbing has forced me to learn more about psychology in terms of positive and negative beliefs, I try and hang out with those who stay positive.
Q: What have you done to give back to the climbing community?
A: I love participating in the adaptive ascents clinic at my local gym, which works to help introduce climbing to those with disabilities, and I'm planning on volunteering as an assistant coach on the adaptive ascents team in the upcoming months.
Q: What have you learned from failure?
A: I've learned that failure is necessary for reaching success, and that it is the only way I can discover what my weaknesses are.
Q: Who are the climbers that inspire you the most, and why?
A: Alex Megos, because he seems like he climbs confident and smooth no matter the situation.
Q: What is your favorite climbing location, and why?
A: Red River Gorge, because it's the best climbing on Earth..
Q: Why Butora Climbing?
A: Because I appreciate their drive to innovate the climbing shoe industry, and their willingness to experiment with new things, and I think I have a little bit of that in myself
Q: What are your favorite before and after climbing meals?
A: Before: A breakfast burrito After: An Ale 8
Q: What is your spirit animal?
A: A Liger, because they're bred for their skills in magic.
Questions from the Internet
These are questions our visitors have asked.
Q: What differences have you found in climbing Narsha versus climbing in Acro?
A: I've found that the Narsha tends to be on the stiffer side, and excels on steeper terrain that involves tiny feet, while the Acro has a little more flex, and is my go to shoe for long sport climbs or anything involving a more slopey foot.
Q: What are some tips you would give to new outdoor climbers about crag etiquette?
A: Please bury your poop, and if you're uncomfortable in a situation ask for help.
Q: Tips you would give to someone who is stuck on their project? How do you stay motivated when you are stuck?
A: As a person who enjoys a good project sesh, sometimes you just have to measure your progress in inches, and take the occasional break.
Q: How have you overcome fear in climbing (fear of falling, fear of failure, etc.)?
A: A lot of fears can be broken down into what you see as a risk. By fact checking and looking at the situation from a different perspective, you can identify that risk as either being a rational one or an irrational one.
Check out our next Ambassador, Kevin Celommi
---