How to Prepare for Your First Climbing Competition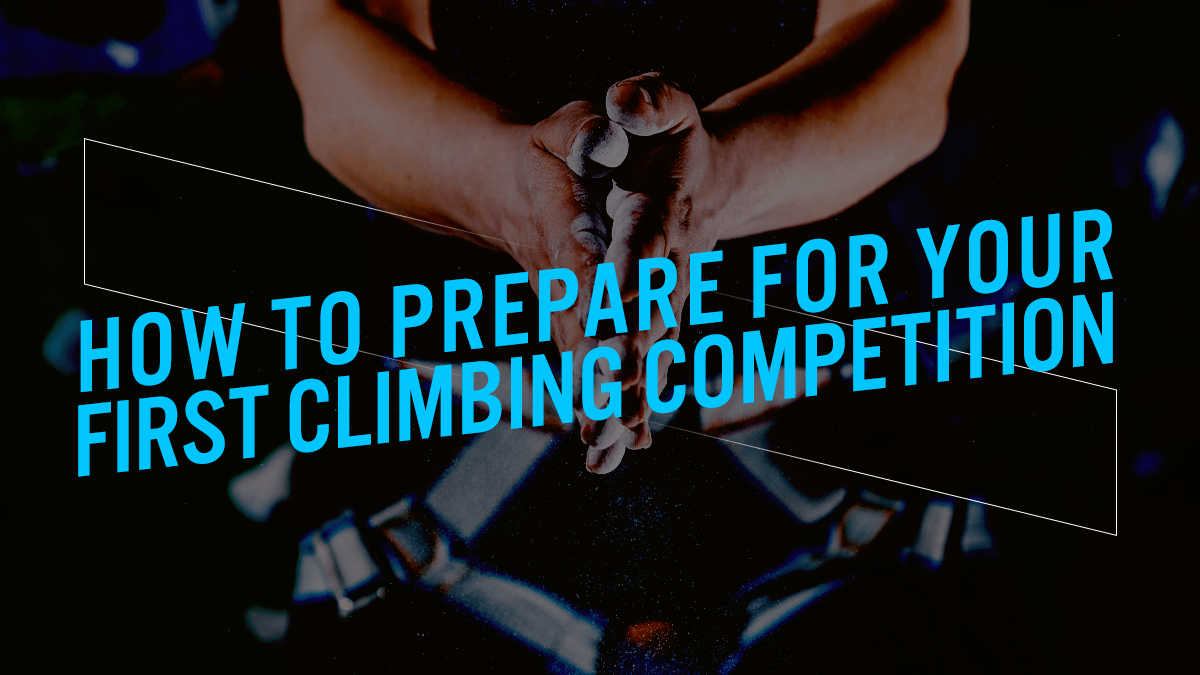 So you've been hooked on this climbing thing for a while, and now you've signed up for your first climbing competition to see what the hype is about. Now that the competition date is rapidly approaching, it's time to figure out how to prepare for your first climbing competition properly!
Week-of-comp Training
Once the week of the competition rolls around, it's time to simmer down the physicality of your training. Why? Because it takes a few weeks to get stronger from physical workouts. So there is no need to exhaust yourself with physically demanding activities one week out. These workouts will not help your climbing performance if executed within a week before the competition.

On top of that, climbing too hard or too much can fatigue you and leave you with a less-than-ideal amount of skin on your palms before the big day. Due to this, it's essential to make sure your climbing sessions don't exceed 1-1.5 hours 2-3 times in the week before the competition. That being said, there are still other ways you can continue to prepare.
Technique Drills
Practicing technique drills is an excellent way to train the week before the competition. When practicing hip/footwork drills, you will climb on easier terrain, therefore not fatiguing your muscles excessively. Training techniques will also fine-tune your body movement on the wall for the competition.
Mental
Along with technique, mental training is very beneficial within a week of the competition. Dedicate a climbing session to mentality, and practice your on-the-wall breathing techniques and positive self-talk. In a competition, sending a climb on the first attempt is key to performing well. Practice sequencing climbs you haven't attempted yet in the gym, and imagine yourself topping it with perfect beta. Then climb it using that sequenced beta! If it doesn't work, don't hop immediately back on without another plan. Spend a few minutes visualizing a different sequence, and then try that one.

During the competition, it's essential to manage your time appropriately. If you go-go-go on some of the most challenging climbs right at the start, you might become flash-pumped and too exhausted to continue climbing to the best of your ability. Instead, make sure you rest 3-5 minutes in between your attempts at the most challenging boulders. It might feel like a long time, but you must pull your hardest every time. Make sure you have a time management plan before the competition starts.
Nutrition
Fueling your body correctly in the days leading up to the competition can make a massive difference in performance. During the competition, you will climb for multiple hours and try hard the entire time. That takes a lot of energy. Eating carbohydrates the night before and the morning of the competition will provide you with the fuel you need. That being said, carbohydrates are important, but make sure you eat a well-balanced meal, complete with healthy fats and protein.

Along with proper nutrition before the competition, making sure you have the right food during the competition is just as, if not more, important. Anything easy to digest (carbohydrates) like a fruit or granola bar will replenish your energy stores during the competition if it's longer than an hour.
Sleep
When we sleep, our body is actively recovering from the day's stress, physically and mentally. Being adequately rested allows us to think with a clear head, which you'll need to figure out a spicy beta. Good sleep can make us feel stronger and climb with more energy, which is vital for a long climbing session. Getting enough quality sleep is important not just the night before the competition but 2-3 nights before too.
What to Bring
Thinking about what to bring might seem obvious, but there's more you need to bring than what you bring to a casual gym session. Shoes, a harness (if rope climbing), and chalk, but you already knew that. As mentioned above, having a snack if the competition runs longer than an hour is necessary to keep your energy levels high. Don't forget lots of water and a change of clothes if the competition gym is not local to where you live, and you don't want to drive home sweaty and chalky. Many gyms will have a post-competition celebration with food and drinks, so having a change of clothes for that can feel like a luxury.
---