My Most Embarrassing Climbing Story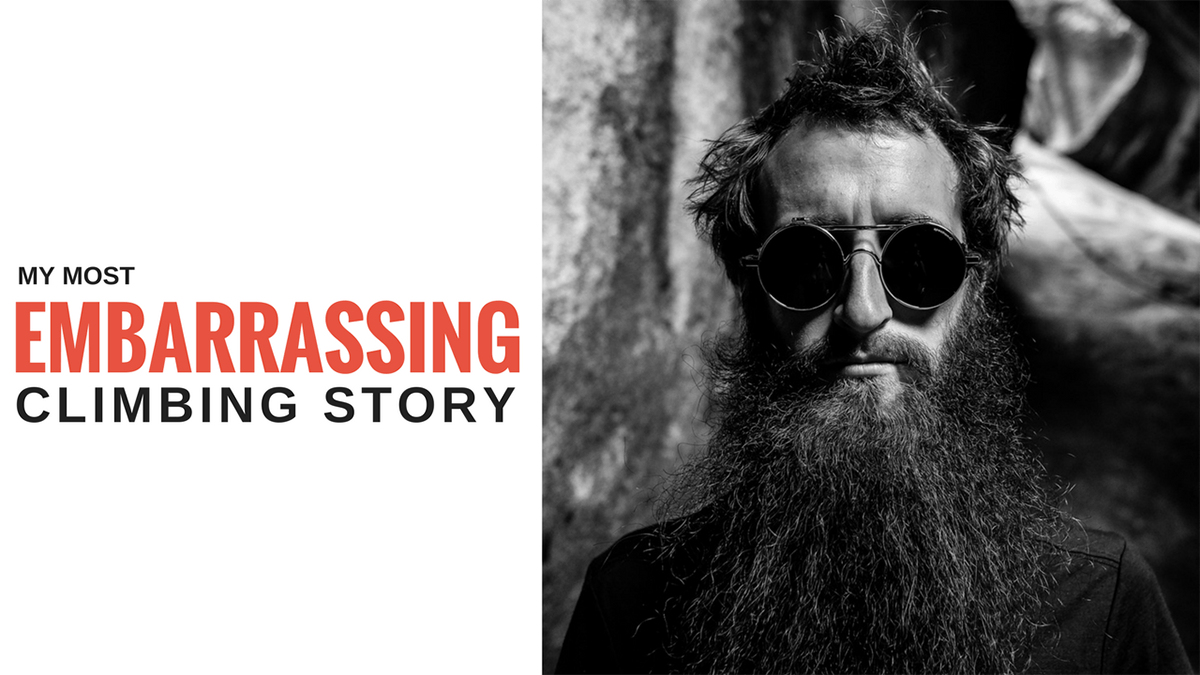 The air became thin; the sky turned black, and the chilling wind stampeded over the mountaintops as freezing hail pelted us. As the lightning struck, we were stuck on the summit of Pingora as the gumbies after we top-roped through our only rap station. "YOU DON'T KNOW HOW TO WHAT?!" Galin screamed at me while we frantically tried to get off the mountain.
Hit the Road
Two weeks earlier, a long-time friend George called me out of the blue and asked if I wanted to go to Wyoming and climb in The Wind River Range. As someone who never plans, I responded, "Hell yeah!"
There were only a few days from when I agreed until we loaded his Honda Element and drove across the US. The idea was to hit the International Climbing Festival in Lander, Wyoming. However, we had several weeks until then, so we checked out Boulder, CO. We heard the climbing scene was pretty small and untapped. I thought George knew someone out there or had a game plan, but about 6 hours into the car ride. He asked if I knew anyone, as he had never been before. And the adventure begins.
I believe everyone has a talent, something at which they naturally excel – a skill set. Michael Jordan is naturally good at basketball, as Chris Sharma is naturally good at climbing. George… he can naturally out-drink anyone, a skill many brag but few can truly claim. As we were driving, George came up with this grand idea that he would meet someone at a bar, get hammered, and pass out at their house, giving us someplace to stay. I laugh and look through my phone book. After scrolling with my thumb, I found a gal I worked with the previous summer working an internship in Boulder. I hit her up, and she got excited to show us around, score.
Well, we arrived in Boulder after a mere 18 hours in the car. We hugged as I hadn't seen her in a year. She showed up with two other fellas and, within 30 minutes, told us she had to leave. Just like that, we never saw her again the entire trip.
We awkwardly made small talk with these dudes for a few minutes. Then they invited us back to 'Sunday Funday'. As the rain poured, one of the guys got a phone call saying his house was flooding. The entire party walked over to his house, and everything the guy owned was in two feet of water.
We quickly rolled up our pant legs and got to fishing out what we could salvage. The guy wasn't even pissed. He just laughed and said, "What else is there to do?" as he opened another cold one, and we returned to drinking.
The night rolled on later, and after a few drinking games, the beer was running low, and people started to leave. With a very serious face, George pulls me aside and says, "I'm not drunk enough."
George walked around the party cleaning up every 'fallen soldier,' any can or glass with a little alcohol left in it. George was double-fisting who knows who's leftover adult beverages. Everyone was laughing and wondering who this random red-headed guy was, just yelling slurs and challenging anyone to petty bets.
Just as he had proclaimed 12 hours ago, George eventually passed out in the corner. As we awoke the next day, George was an instant legend. The guys at the house took us to breakfast, and we made two new best friends for the next week. The following week was something out of a college-drinking movie.
The week ended, and we decided we better move on from Boulder before we had to call our parents to post bail.
On to Lander, We Went
The festival started, and we didn't know anyone. However, that did not last too long. The next day, George started using the skills I mentioned earlier.
We went to the Lander Bar, and I started auctioning off George as an Irish arm wrestling champion. George got a few drinks in him as the hours grew and the crowd got larger.
I stood on a picnic table announcing (mainly heckling) people as they arm wrestled all night. Climbers, locals, cowboys, Marines, local drunks – they were all in this circle yelling like it was some underground chicken fight. George and I became known as the Kentucky Boys.
At this point, you're probably wondering where the embarrassment part is in this story.
YOU DON'T KNOW HOW TO WHAT?!
As the festival ended, we met up with our college buddy Galin, a NOLS instructor. We looked through the guidebook as we packed up for our adventure into The Winds.

We decided on the classic Pingora peak. We sorted our food, clothes, and climbing jingly things. I packed my bag with food and clothes and pretended my bag was half my weight. I suckered George into carrying my portion of the climbing gear.

The guy was a damn mule, and his pack must have weighed 90 pounds. I chuckled along our 12-mile approach into the backcountry as I daintily hopped across the talus field, as George grunted and swore, wearing half a gear shop on his back.

If you have never been to the Winds, it's hard to explain how beautiful this place is. The Cirque of the Towers is something crafted by the Gods. The peaks towered above us as we slept.

We awoke and racked up for our accent. It was an unbelievable 72 degrees and sunny. We talked about what we would bring; they told me to be as light as possible. I grabbed a jacket against their advice. Under the peak, I wrapped my shaking hands like amateur boxers' first time in the ring.

They slowly led the beautiful granite crack as I followed every pitch turning it into a grunting layback. There was no skill, no technique; I probably would have had a better chance jamming my beard in the crack. Slowly but surely, we made our way up. The sky was blue and beautiful.

As we topped out the route, the laughing and cheering stopped suddenly as we could see beyond the mountains. The once blue skies turned black, and the calm breeze turned to a shivering blast of wind.

We decided to grab a quick photo before we got off the mountain. We took our time and got our group photo. As soon as we decided to walk to our rap station, another crew behind us had just made it to the top and decided to set up his anchor on our rap station. So we were stuck unless we wanted to leave gear.
By the time the second climber reached the top so they could clean their gear, we started getting pelted with cold sleet. We heard the thunder. We were scrambling to get off the mountain.

We decided to tie the other group's rope together with our rope so we could double the length to get off the peak faster. George looked at me and asked me to tie an EDK. I looked at him and said, "What the hell is an EDK?" He responded, "European Death Knot."

I laughed, but the massive winds and his serious demeanor quickly wiped the smirk off my face. He tied the knot and threw our rope in the wind. He quickly rigged his ATC and zipped down the line.

Galin yelled over the wind, "You're next." I stutter as I look several hundred feet below, where I cannot see George, only the lightning in the distance. I yelled, "I don't know how to rappel!"

At this point, I had been a 'climbing guide' for a university for several years, I was very proficient in rescue techniques, but when sport climbing at The Red we always lowered off routes on belay for ease and perceived safety. I had never actually rappelled off anything.

Galin interrogated, "YOU DON'T KNOW HOW TO WHAT?!"

I looked him and said, "I have never rappelled."

He stood there dumbfounded as hail smacked his face. He asked when I thought it was a good idea to voice that I have never repelled. I shrugged my shoulders as he grabbed my harness as if I was some sad puppy. He took my ATC off my belay loop and hooked me into the rope. He placed my hand on the rope and said, "Don't let go."

Legs shaking, I made my walk on the granite plank of death.
Death gripped the line with my rope-burned hands to the next belay station. George asked, "What took so long?" Too embarrassed to admit what happened, I answered, "I was enjoying being beaten with hail."

We all made it to the bottom, the sky cleared, and we chuckled the rest of the trip at my expense.

It was one of my most memorable climbing experiences, but to anyone reading this, don't be an idiot. Tell your friends you don't know how to do something before you're several hundred feet in the air as mother nature strikes.
---
Mitch Vernon is a Butora athlete based in Chatanooga, TN. Check him out on Instagram @hipmitch to keep up with his adventures, hopefully, different from the one in this story!
---