Two Butora Products Have Made the 2018 "Best Climbing Shoes"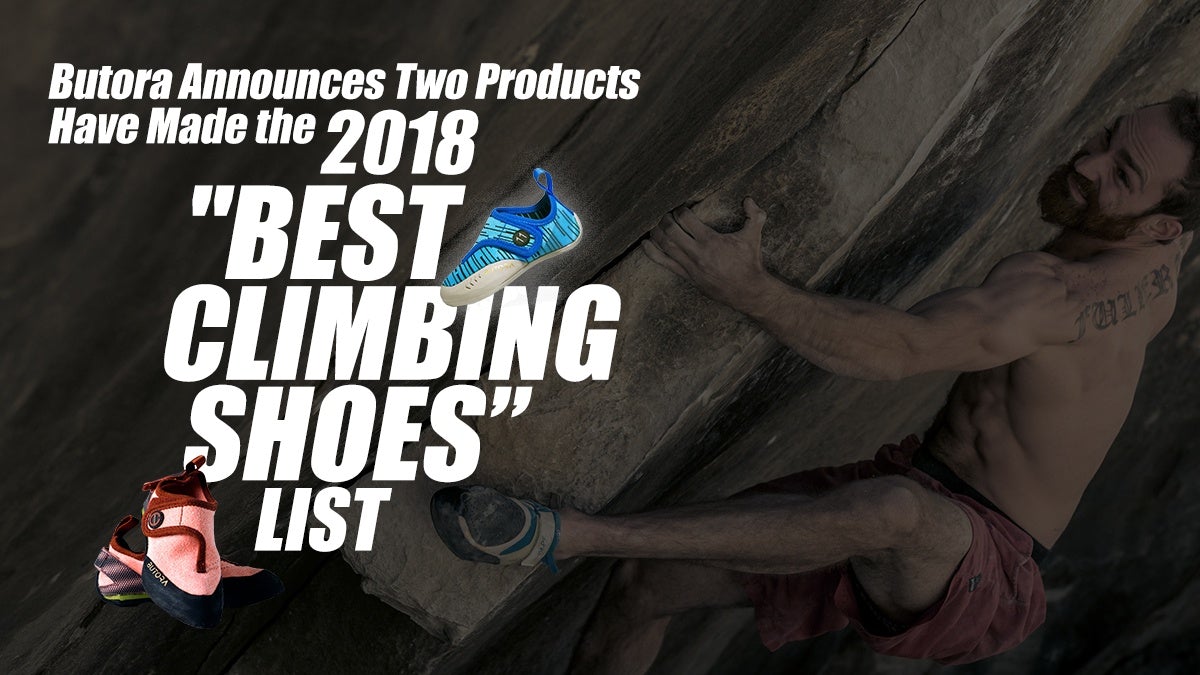 The Acro made Outdoor Gear Lab's 2018's Best Climbing Shoes list, and the Brava made the Best Climbing Shoes for Kids list
(Longmont, CO) Butora proudly announces Outdoor Gear Lab has recently given two of their products the Best Buy verdict for their performance, quality, and value. The outdoor industry's most popular review website named the Acro for adults and the Brava for children as one of the Best Climbing Shoes for 2018. Of the 28 climbing shoes tested, the Acro ranked 6th overall and received the Best Buy award for being the most affordable among shoes of the same caliber. Also, the company recently launched two new products, the Enoki and the Sparrow, and both, though designed as rentals, offer the same level of performance, innovation, and comfort seen in the Acro and the Brava.
"Whether you are new to climbing or have plenty of adventures under your belt, we have a climbing shoe for you." Bryan Hylenski, president of Butora explains. Hylenski added,"We have been making shoes since 2014 and currently offer footwear options that are thoughtfully designed for various types of climbing."
"Even with only three years in the business, our products continually push industry standards that drive the competition to keep up. While the Acro and Brava have made the Outdoor Gear Lab list, climbers know whichever Butora shoes they choose to take home, they are getting an excellent product that will hold up with time, " Brad Hilbert, director of marketing for Butora emphasized.
The Acro: Outdoor Gear Lab's Best Buy Climbing Shoe for Men and Women 2018 is the perfect shoe for many. It is a stiff shoe but retains its sensitivity. This shoe model has wide and narrow versions, so nobody has to settle for ill-fitting footwear simply because his or her shoe size is only available in one width. Furthermore, this shoe provides excellent edging capability. Individuals who prefer sport climbing and bouldering should check it out.
"According to Outdoor Gear Lab, the Acro offers the best bang for the buck. The rubber uppers are sticky which helps with toe-hooking and those who tested the shoe say it fits great right out of the box. If you need a new climbing shoe, this is one you don't want to miss," Mack Maier, director of product development reports.
The Brava: Outdoor Gear Lab's Best Buy Climbing Shoe for Kids 2018 is ideal for children who are new to climbing or those who have only recently become involved in the sport. Kids love wearing these shoes thanks to the soft microfiber upper and the cushioned heel. Parents will also appreciate the affordable price.
"When we introduced the Brava, people were hesitant. However, they stopped doubting when they saw everything this shoe has to offer." Maier said. He also added, "Be sure to test the Brava and try out the many other offerings of Butora. We have climbing shoes for every member of the family."
---