Top 10 Climbing Destinations in the U.S.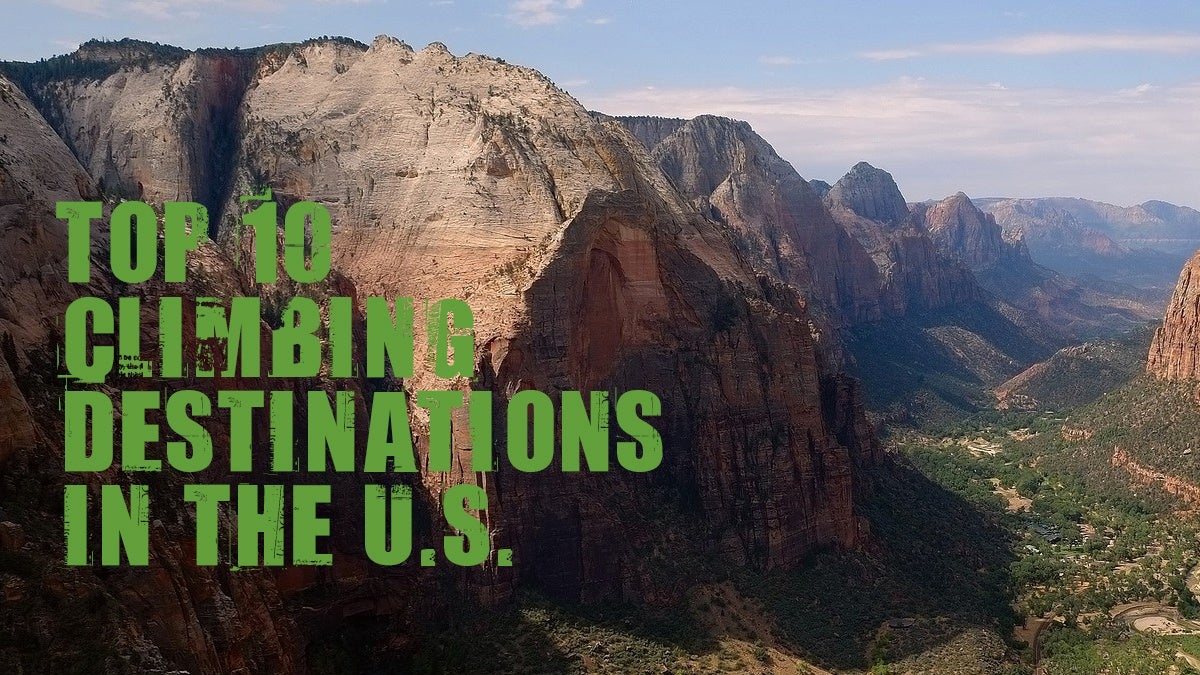 The United States is the birthplace of modern rock climbing, and this shouldn't be a surprise to anyone because the U.S. offers a considerable variation of stunning rock climbing destinations.
If you're a climber, there are few countries better to live in or visit than the United States. A climber could spend years traveling across the U.S. and never rope up in all the fantastic destinations. Between big granite walls, sandstone towers, and limestone caves, there are options to please all types of climbers. If you want to explore the U.S. and appreciate its many natural habitats, consider climbing across the country.
Admittedly, most of the best climbing in the U.S. is on the west coast. However, there are great destinations for east coasters as well. If you're a climber looking for an excuse to go on a road trip, we've made a list of 10 climbing destinations you must visit. Whether you like to climb trad or sport, consider visiting one or all of these places:
Ten Best Climbing Locations
Yosemite National Park, CA
Can anywhere really compare to this incredible destination? The birthplace of modern rock climbing, Yosemite, you can traverse the same mountains as many great climbers that have come before you. Here, you'll find beautiful granite trad climbs as far as your eyes can see. That being said, the only significant drawback is that Yosemite has become popular and crowded; expect to fight crowds if you're trying to get on a classic route during peak climbing season.
2. Smith Rock, OR
Even if you've never heard of Smith Rock, you've probably seen pictures of it. An excellent destination for climbers that are capable of moderate and challenging routes, Smith Rock tops out into an incredibly picturesque scene. If you strategically place a friend with a camera, you'll capture a photo worthy of outdoor retail ads.
3. Zion National Park, UT
Zion is an excellent destination if you want to climb long-aided sandstone routes. There's not much trad climbing in Zion and no sport climbing, so it is reserved for aide climbers. However, there are some easier or moderately aided routes, and if you're looking to do an overnight bivy for the first time, this could be the perfect place.
4. The Gunks, NY
People generally think of the West Coast when thinking of climbing destinations. However, the Gunks (short for Shawangunks) is a premier destination, and it's located just 85 miles away from NYC. There are no sport climbs in the Gunks, so keep that in mind when planning your trip, but trad climbing opportunities range from easy 5.4s to difficult 5.12s. The Gunks is one of the oldest climbing locations in the country, and some of these classic routes were put up in the 1940s, so be careful not to get sandbagged when picking out a climb.
5. City of Rocks, ID
Perhaps it had its heyday in the '90s, and to some extent, it's been overshadowed by areas like Yosemite. However, City of Rocks is still a phenomenal location for those of us interested in climbing great granite lines. There are a few longer routes in City of Rocks, but most climbs are under 3 pitches.
6. Rocky Mountain National Park, CO
While it's not for the faint of heart, Rocky Mountain National Park is one of the most beautiful places to climb in the U.S. That being said. The climbs take a lot of commitment. Rocky Mountain climbs generally occur in an "alpine setting," meaning you must be prepared for long days of strenuous climbing. More so than other parks, you must be prepared to hike long approaches and read the landscape for potential hazards.
7. Owens River Gorge, CA
Not far from Bishop, this destination is a mecca for sports climbers. The Gorge can get crowded, but if you're willing to hike farther in, you can escape the worst of it. You can literally sit anywhere in the gorge and see dozens of sports climbs.
8. Joshua Tree, CA
This world-renowned destination has thousands of routes, and the area is best known for its bouldering problems. The summers can get hot, but Joshua Tree is a great climbing destination most of the year. The rock is quartz, and the desert varnish allows some friction moves.
9. Rumney, NH
One of the best sport-climbing destinations in the world, this crag is named after the quiet little town it sits above. The rock is all schist, which makes for an interesting "wood" like feel due to the "grain" that forms in the rock. If you're on the east coast, don't skip out on Rumney.
10. Red Rock, NV
A great sandstone mecca, Red Rock has a variety of long multi-pitch trad climbs and short sport climbs. It gets brutally hot in the summer and cold/windy in the winter, but the weather is pleasant for half of the year. Red Rock has exploded in popularity recently, so expect long waits at the base of classic climbs. Despite the crowds, Red Rock is still a world-class destination, especially if you like desert climbing.
Spotted!
We hope you consider traveling to a few of the locations we've listed as our "Top 10 Climbing Destinations". But remember, these locations only scratch what the U.S. has to offer. Plenty of great climbing crags are hidden gems, little known to outsiders, for you to hunt down and find across the country. There are plenty of unclimbed crags and multi-pitch routes waiting for a climber like you to discover them.
---